Summer's here & its time the ideal time to take a break. After a challenging 2015, one needs to to put the feet up & call it a year.
Studies have provded that taking a break improves productivity. Obviously, there is a need to be focused on your work & responsibilities, however taking a break wil boost your productivity in the long term & promote creativity. A work overload can stress you out, make you tired & grumpy….thats why you need to take regular breaks during a day & plan holidays sometime during the year, to escape it all.
Believe it or not, if you simply change the location in which you are working or take a good 30 minute break from your desk, you will be surprised at the amounts of ideas that pop into your head. A change of scenery has that magical effect to not only refresh the senses, but allow the brain to think clearly & more creatively. Often, when people come back from holidays, they have gained a new perspective on their work, culture or lifestyle. They have broadened their outlook & thus changed the way they think about things.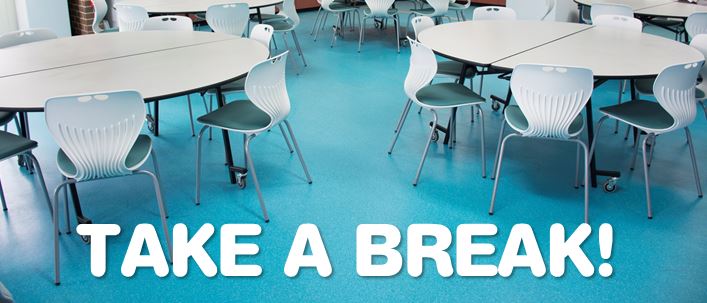 Taking breaks has its health benefits too! It relieves stress, boosts your energy levels & enlightens the mood. C'mon, you deserve a break! After a whole year of working/studying, its good to reward yourself, you feel your efforts are worthwhile. Regular breaks during a day at short intervals, helps to achieve a work-life balance.
Taking a break at work or at school needs to be in an environment that is comfortable & secure. One that inspires creativity while also allowing the mind to relax & rejuvenate. Civic Australia has worked with countless schools around Australia to help them achieve the ultimate school-life balance.
Staff at McCarthy Catholic College are treated with a large lunch room that seats over 70 people with a kitchenette close by. Fitted out with the popular Evo Chair & mobile tables, this eating area can be quickly re-configured for various layouts or to the clear space.
Feel free to call or email us for more information…
P: 1800 228 877
E: sales@civicaustralia.com.au