While creative hubs have been in existence for decades, they have gained popularity throughout the world in the last 10 years in response to the demand for a place where people can be inspired to learn and work.
Emerging from unused space in office buildings, factories and warehouses, creative hubs have come into their own as beautifully designed spaces, equipped with all the facilities required to facilitate learning and development in a digital world.
WHAT ARE CREATIVE HUBS?
Creative hubs are physical spaces that blend technology and innovation in exciting learning and work spaces. They provide individuals an opportunity to learn and expand their skills in a stimulating environment.
Aside from learning centres, many creative hubs provide a range of services such as workshops, mentoring and networking events.
Working from a creative hub allows students and professionals to be part of a larger picture, without feeling they are constrained by the restrictions of a large institution or organisation. Also, professionals who face isolation when working from home, have an opportunity to collaborate, connect and share ideas with other like-minded individuals.
Being part of such a community that encourages collaboration and experimentation helps in increasing confidence levels and improves learning.
Modern creative hubs operate in a different way than past institutions. They play an important role in the future of our creative economy by helping to boost economic value, encouraging product innovations, experimentation and challenging old ways of thinking, as well as promoting creative thinking.
With barriers to classroom-like teaching environments removed, creative hubs allow outside of the box thinking and help in the creation of innovative learning experiences.
DESIGNING A PERFECT CREATIVE HUB
An investment in the design of a workspace should prioritise the needs of users. A poorly designed hub directly affects the productivity and wellbeing of users, while a well-designed hub helps in motivating and improving productivity and user experience.
With plenty of modern design options, it is important to consider the demographics of your workplace and the direction of your business before conceptualising its design.
DESIGN WITH USERS IN MIND
However basic or advanced a learning program, product or leading technology it is only as good as how well it is understood, implemented and utilised. This is why it is important to design a creative hub with the end-user in mind.
For instance, millennials now comprise a large part of an emerging workforce and have different work preferences compared to Gen Xers. So it is important to consider the needs of users when designing a creative hub. Here are some factors to consider:
AVOID RIGID ENVIRONMENTS
The younger demographic is more responsive to relaxed environments. Bold colour palettes and technology integration boost concentration and excitement for learning whilst the change of scenery stimulates the senses and gets the creative juices flowing.
Wheels and flexible furniture allow for quick and easy movement, transforming the space in minutes.
FLOOR PLAN
Wide, spacious open floor plan designs are increasingly replacing enclosed spaces as they promote collective discussion and social interaction.
These spaces are ideally suited for co-working internally and foster teamwork and collaboration.
However balancing the needs of collaborative and independent learning styles, with spaces that are dedicated to collective idea generation and private working areas, can be a flexible solution.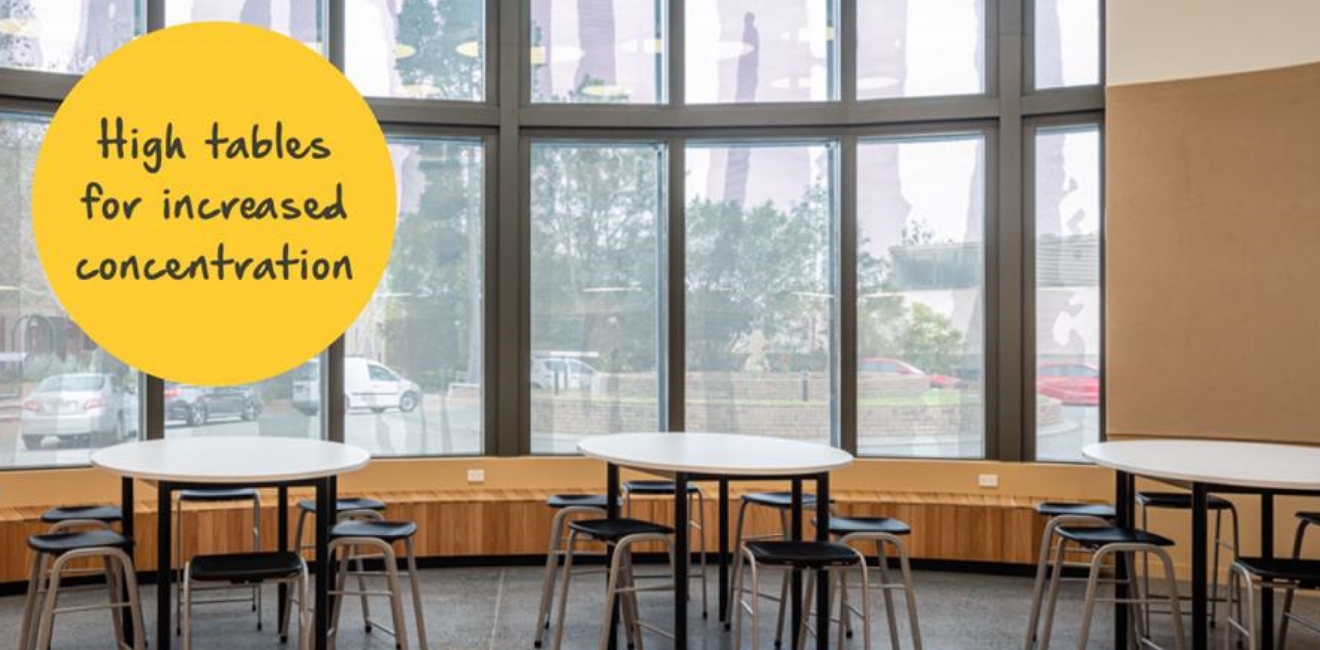 DESK DESIGN
Desks that are ergonomically designed provide flexibility and comfort. It is also important to consider the wellbeing of users.
Adjustable desks help users to sit comfortably with the computer screen adjusted to the right height.
They also assist uses to vary their sitting and standing routines, which makes for healthier and comfortable environments.
CULTURAL FACTORS
Cultural factors should also be considered when designing creative hubs. Ensure the layout is not so rigid that it cannot be adapted to cultural activities and norms.
For example, planning a customised kitchen fit-out and a dining area fosters a culture where users can take a break between their tasks.
Users may also want to spend more time socially interacting with others and creating a space that allows them to meet casually for exchanging ideas is important.
DESIGN DETAILS
A common mistake in designing creative hubs is to overlook details of the fit-out which can make a remarkable difference in how appealing users find it.
Here are some items to consider:
Natural Lighting:

Natural lighting helps to impact productivity and quality of output. Ensure that the space is designed to allow maximum incoming light, or choose warm and soft artificial lights to counter any harsh lights.

Declutter:

Ensure desk space is maximised by decreasing clutter. A simple way to do this is by utilising shelves and cabinets to maximise desk space.

Regular Checkups and Updates:

Keep track of technology and ensure Wi-Fi and other technological facilities are up to date. Create systems and procedures to ensure stationery, kitchen supplies and other supplies are stocked.

Taking the time to plan and design a creative hub is important because it directly impacts motivation and productivity. With increased demand, there are more creative hubs set up in different locations and the competition is increasing.

This makes it even more important for creative hubs to attract and retain long-term customers. Finding the right design for a creative hub requires being flexible, open to ideas and appreciative of the needs of users.
NEED HELP TO FURNISH YOUR CREATIVE HUB?
Once you've designed the perfect creative hub, the next step is to get furniture and furnishings that make the design a reality.
At Civic Australia we offer a complete solution to help you make your vision of establishing a creative hub come alive. Right from the concept stage to completion of the project.
We also use the best quality materials and offer world-class support and are there to help you with any additional requirements once your project is completed.
To find out how we can help your vision of a creative hub come alive, call us for a free consultation on 1800 228 877 or Click Here to Contact Us.